Join in the discussion of Colonial Coin Collecting
The Challenge of Colonial Coin Collecting

Written By Mark Aka: Mid Life Crisis
Coins owned by Mid Life Crisis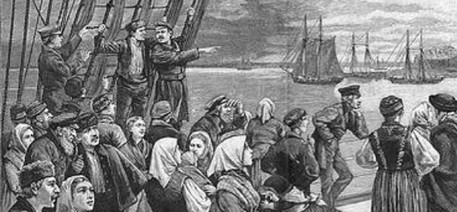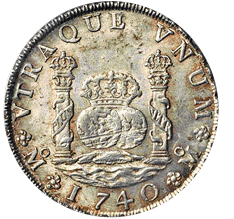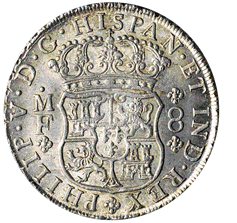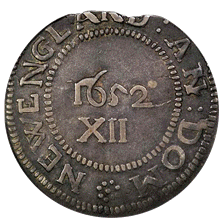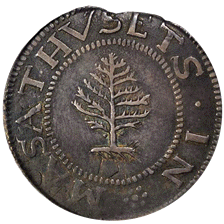 1740 Pillar Dollar 8 Reales
1652 Pine Tree Shilling
Part I. What is a colonial coin?
I'm sometimes asked "Where can I find a listing of the colonial coins that would be required for a Type set?"
First of all. I wouldn't get too caught up in the debate about what coins are actually colonial. pre-colonial. pre-federal. etc. I use the term "colonial era coins" and collect what I like!
To get a list for a type set. you could start out by using the Redbook. I use the PCGS Early American Coins and Tokens Basic Design Set. which consists of the following coins:
Massachusetts Silver Oak Tree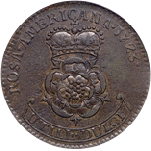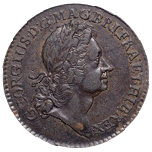 1723 Rosa Americana TwopenceMassachusetts Silver Pine Tree
Maryland Coinage
New Jersey St. Patrick Coinage
American Plantation Token
Rosa Americana Coinage
Woods Hibernia Coinage
Virginia Coinage
Elephant Token Halfpenny
Higley Copper
Voce Populi Coinage
Pitt Token
Rhode Island Ship Medal
Chalmers Coinage
French Colonies Billon Coinage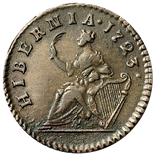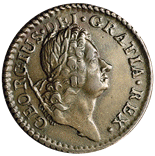 1723 Hibernia Farthing
French Colonies Sou 1767
Continental Dollar
Nova Constellatio Copper
lmmunis Columbia
Massachusetts Copper
Connecticut Copper Bust Left
New York Excelsior
Machin·s Mills Copper
Nova Eborac Copper
New Jersey Copper Head Right
Vermont Copper Plow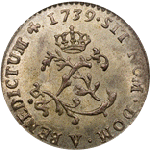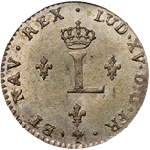 1739-V French Colonies
Vermont Copper Bust Right
North American Token
Bar Copper
Auctori Plebis Token
Mott Token
Kentucky Copper
Franklin Press Token
Myddelton Token
Castorland Medal
Talbot Allum & Lee Cent
Washington Triumpho Token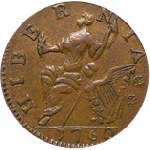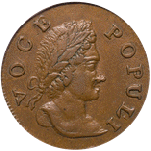 1760 Voce Populi Halfpenny
Washington Military Bust
Washington Draped Bust
Washington 1791-95 'Washington President' Obverse
Washington Undated Liberty & Security
Washington Success Medal
Fugio Cent

Washinton Success Medal

There are many ways to collect colonial era coins. They include:
A limited type set of "mainstream colonials". such as Pine Tree Shillings. Fugio Coppers. Continental Dollars. Nova Constellatio Coppers. etc.
A complete type set covering every series in the Redbook.
An expanded type set of all colonial related issues. including Redbook coins. other circulating world coins and other association pieces.
An in depth focus on one series (such as Talbot. Allum and Lee coins. including all of the mules and all variants. or Pitt related items. including coins. medals and ephemera).
A collection of state coppers by die variety. such as Connecticuts by Miller variety.
Same as the preceding. but also including die states
Same as preceding. but also including unusual and interesting errors. PDVs (painted die varieties). unusually light or heavy coins. etc.
A theme collection. such coins with boats on them.
One of the great things about collecting colonials is that there are countless ways to design your collection.

1688 American Plantation Token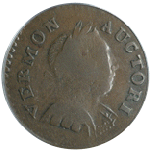 1788 Vermont Copper - Ryder 16
Part II. The Necessary Research
The saying "buy the book before you buy the coin" is old but good. Before you buy any colonial era coins, you should spend a little money on a couple of books and auction catalogs.
Books:
The History of United States Coinage, As Illustrated by the Garrett Collection, by Q. David Bowers.
This book highlights one of the finest collections ever formed and it has extensive information about colonials.
The Early Coins of America, by Sylvester Crosby is a must-have book for colonial collectors.
Whitman Encyclopedia of Colonial and Early American Coins, also by Bowers. This recently published book is an excellent basic reference.
Complete Encyclopedia of US and Colonial Coins, by Walter Breen. Even with its flaws, it's a great reference.
Auction catalogs:
Stack's series of John Ford Sales
John J. Ford's collection contained over 11,000 coins, tokens, medals and other numismatic items covering all aspects of American numismatics - except regularly issued federal US coinage.
This massive collection was sold by Stack's in a series of 21 auctions for over $56 million.
Stack's Roper Collection sale
John L. Roper, 2nd, was "a prominent Virginia industrialist and public figure".
He assembled one of the finest collections of colonial era coins ever to come to public auction.
The coins were sold by Stack's in December 1983. According to the auction catalog, the collection contained many fantastic rarities including:
- Six specimens of Sommer Islands coinage, including the extremely rare shilling with large sails, a superb sixpence with small portholes, and a twopence
- Thirty six pieces of Massachusetts silver including the finest known (at the time...maybe still) New England Sixpence
- A complete set of Maryland coinage, including shilling, sixpence, groat (fourpence), and denarium
- A complete set of regular issue Rosa Americana coinage along with a large number of Rosa Americana pattern pieces
- An extremely rare "God Preserve New England" Elephant Token
- A 1714 Gloucester Token (Amazing rarity - 2 or 3 known - and a mysterious and fabulous coin, I think)
- Seven (!) different examples of Higley Copper coinage
- A brass Continental Dollar
- A Standish Barry Silver Threepence
- Two Albany Church Pennies
- Complete set of three Myddelton Token varieties (copper, silver, and COPPER COMPANY OF UPPER CANADA reverse)
Bowers and Ruddy's series of Garrett Collection sales
As noted above, the Garretts formed one of the finest and most extensive coin collections ever.
One of their primary collecting areas was colonial era and other early American coins.
Bower's and Merena's Eliasberg Collection Sale, Part I
In addition to being the only complete collection of federal US coinage ever formed, the Louis Eliasberg collection also contained a limited offering of superb colonial pieces.
Bowers and Merena's series of Norweb Collection sales
Also an extensive collection that contained many major colonial rarities.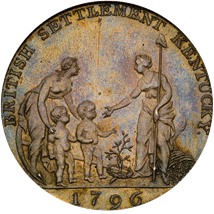 1796 Myddleton Token in Silver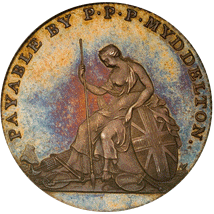 Part III. Tips for Collecting Colonials…and Other Thoughts
Once you've read a bit and feel comfortable buying an inexpensive colonial or two, here are some additional thoughts to keep in mind:
Initially, I recommend that you only buy coins certified and graded by a reputable third party grading service such as PCGS.
You could look for coins in PCGS genuine holders, but I suspect most that you find will be rare and expensive.
So, even though I don't like NGC as much as PCGS for colonials, NGC NCS slabs could be a decent alternative
if you are on a budget but super picky.
In any case, stay away from harshly cleaned coins...but realize that a lot of early copper has been brushed, oiled, lacquered, waxed or otherwise "conserved" and you may be ok with buying those coins.
Personally, I shy away from them and seek out coins that I believe are original...but I recognize that conserving copper has been a widely accepted practice in the hobby for years and there are a lot of nice coins to be found this way.
In my opinion, color and surface quality are the most important aspects of early copper and other colonial era coins.
I prefer a smooth, hard planchet with a nice, even warm color that reminds me of milk chocolate.
For silver, I look for the same attributes in the planchet and I look for dirt between the devices, natural but subtle toning that comes with age...and in all cases, strong eye appeal.
Realize that many colonial varieties come with less than ideal planchets...weak strike, off center, die cracks, dings, discoloration, etc.
In some cases, you may have to just accept this if you want an affordable coin.
Some colonial coins just don't exist in mint state. Some are so rare and popular that they are prohibitively expensive in high grades.
You should study the series and decide what the "optimal collector grade" will be for you...but remember that high grade colonials are very difficult to find!
Colonials are challenging for a lot of reasons. Even after you have a lot of experience with them, you can still make a bad purchase, end up buying a dog, or pay more than you should. Even dealers who are experts in colonials make mistakes...
I know because they've shared those stories with me as teaching points.
Going back to what I've said before, I really think your first big investment should be to obtain as many of the Stack's auction catalogs for the Ford collection as you can, as well as the Stack's auction catalog for the Roper collection and Bowers' catalogs of the Garrett collection. These are great references and you will learn a lot by studying them.
But even Ford, Roper and Garrett - who all had a lot of money and could pick and choose as they liked - each had a few coins in their collection that seem like mistake purchases and are "dogs" compared to the rest of their coins.
It takes some work to become a knowledgeable colonial coin collector.
It takes focus, opportunity, and above all, patience to form a quality collection of colonial era coins.
But colonials are a lot of fun because they are so challenging!