Written by onlybuffalos
Over the past several years there has been a slowly growing interest in the early coins of Hong Kong. The main reasons for this are arguably (1) the increased wealth and Interest of China and Hong Kong citizens and (2) easier access to both common and rare Hong Kong coins no matter the location or type of sale.
Auctions conducted outside the USA now offer the widest and typically the best selection. In the not too distant past. participation in auctions could only be accomplished
via mail, in person. or through an agent. Now because of the internet, collectors can easily compete in the majority of international auctions and almost always in important ones.
Easier access to worldwide markets has brought greater selection to the Hong Kong coin collector. has helped establish greater transparency
for the market value of these coins. has provided a better understanding of the rarity of individual coins. and has made selling easier, quicker and more rewarding.
Coins dated before 1885
The pursuer of these silver coins quickly recognizes that coins minted before 1885 are at least scarce and that choice coins for this era tend to be expensive and
highly sought after. Pre-1885 silver Hong Kong coins in uncirculated condition are seldom offered for sale in any venue.
Both circulated and uncirculated coins can vary considerably in quality even when in the same technical grade. Because of their 80% silver content. these silver coins
are very prone to tarnish (toning). Quite often this toning was/is unattractive. Until the mid-1970s, many and perhaps even the large majority of collectors, preferred coins
that were "white". Thus silver Hong Kong coins were cleaned and/or dipped by dealers and collectors. To pre-1885 silver collectors, because of the scarcity o f t
hese coins in any condition, this has not been a sufticient reason to not collect these coins.
Original examples which have not been cleaned or dipped and which are attractively toned are very seldom seen even in the finest of collections.
Both PCGS, NGC and other grading services are very tolerant of a cleaned pre-1885 silver coin as long as the cleaning is not harsh or excessive.
(This is nottrue of the Hong Kong copper coins and later dates.) Most certified pre-1885 coins exhibit signs of being cleaned or dipped.
Unfortunately, improper dipping has removed much of the luster from many high grade coins and many coins appear dull and lifeless.
A lusterous pre-1885 silver coin is indeed rare and highly prized.
PCGS appears to value luster more than other third party grading companies especially for denominations of 1 0 cents or greater.
In my opinion. there is a one point grading difference between PCGS and the other grading companies for coins graded MS63 and above due to the quality of the luster.
Coins dated 1885 and later
For the most part, coins dated 1885 and later are easier to locate for sale. They typically are considerably less expensive than the earlier dates.
It would be a mistake to assume that all dates of these coins are plentiful; in reality many are not.
The grading services are a little less tolerant of cleaned coins of this group.
Lightly cleaned coins are still graded and encapsulated while those with clearly visible hairlines will not be.
Five cent silver coins
Of all the Hong Kong silver coin denominations. the five cent silver coins are by far the easiest to find for sale and the least expensive especially for the later dates.
Type coin collectors will have no difficulty finding coins in any grade to fill their wants as only three distinct types exist- KM#5, KM#12 and KM#18.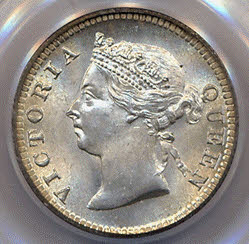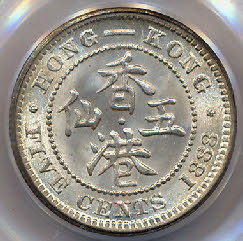 Hong Kong 5 cent Silver KM#5 1866-1901
1888 PCGS MS67
KM#5 1866-1901
The early silver coin market is very thin and historical prices do not provide a meaningful guide as to the value of a particular coin.
That said, here are some prices observed in 2008. Coins dated pre-1885 in a PCGS MS63 holder- $400 and up; PCGS MS64 - $500 and up.
All of these coins appeared to have been lightly cleaned. I am unaware of any PCGS MS65 sales. There were ungraded coins sold as uncirculated but without observing
the coins in person, it is impossible to determine their grade. Not many high end circulated coins were seen for sale and very few were certified. Circulated coins from
the 1870s sold for the most- $200 to $300. Other early dates from $100 to $200.
The later dates (1885-1901) traded this past year for as low as $75 for a PCGS MS63 up to around $250.00 for a PCGS MS67.
Circulated coins remain plentiful and inexpensive. I do not remember seeing any PCGS certified circulated coins for sale.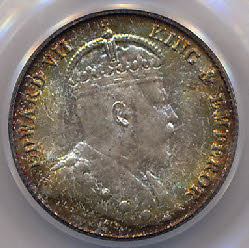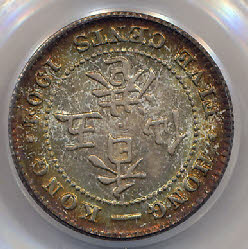 Hong Kong 5 cent Silver KM#12 1903-1905
1904 PCGS MS67
KM#12 1903-1905
These were often seen for sale on eBay the first half of 2008 but far less frequently recently.
Prices generally mirrored the later dates of KM#5 for grades MS63-MS67. Some PCGS MS64 coins sold for as low as $40.00.
Hong Kong 5 cent Silver KM#18 1932-1933
1933 PCGS MS67
KM#18 1932-1933
As with KM#12, these were readily available on eBaythe early part of2008, but seldom now. Typical prices: $75 for PCGS MS66; $150 for PCGS MS67.
Ten cent silver coins
The mintages of the Hong Kong silver five cent and ten cent coins are similar, yetthe ten cent coin appears for sale far less. Some people believe that a large majority
of the ten cent coins were melted for their silver content and thus only a small percentage remain. While this is impossible to confirm. the infrequency thatthese coins
are seen for sale in any condition, supports that belief. In grades MS65 and above, there are many more five centthan ten cent coins certified by PCGS and NGC.
Many ten cent coins have solid strikes, but very few coins exhibit "blazing" luster.
Compared to the silver five cent coins, type coin collectors will find it much more difticultto acquire eye-appealing examples of the Hong Kong ten cent coins in most grades.
They will be more expensive particularly in grades MS64 and above. The four coins required for a type set are KM#6.1, KM#6.2, KM#6.3 and KM#13. All ten cent coins from
1863 through 1901 are uncommon to rare. This is especially true in grades MS65 and above. The combined populations of PCGS and NGC in this date
range are 36 coins in MS65; 21 coins in MS66 and 9 coins in MS67. These populations are possibly somewhat high due to unreported crossovers.
They are seldom seen for sale on eBay except in well-worn condition.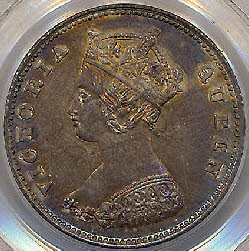 KM#6.1 1863-1865
Struck at the Royal Mint in London, these coins are seldom seen for sale. The 1864 date is very rare despite the reported mintage. It is believed by many, t
hat the mintage stated for 1864 refers to a portion of the 1863 mintage that had not yet been struck.
Ofiicial Hong Kong documents indicate that no coins dated 1864 were authorized. The few 1864 coins that exist were likely struck from prepared dies anticipated for
use in 1864 as part of a test of these new dies.
KM#6.2 1866
Two different type coins exislfor 1866. This type is for the coin that was made at the London Royal Mint. II can be distinguished from the other type (KM#6.3) by the number
of pearls in the right arch of the crown on the obverse. KM#6.2 has ten pearls; KM#6.3 has eleven pearls and was struck at the Hong Kong Mint.
This one year type is seldom found for sale.
KM#6.3 1866-1901
For three years. 1866 to 1868, these ten cent pieces were manufactured at the Hong Kong Mint after which time the Mint was closed.
Ten cent coins were not made again until 1872 when production was resumed at the Heaton Mint in England.
Expect to pay around $250 for a later date KM#6.3 in an NGC or PCGS MS65 holder.
KM#13 1902-1905
When these coins are seen in uncirculated condition, they are usually dated 1902 or 1904. Coins dated 1903 have a stated mintage o f 2 5 million, but are seldom found
having been certified by NGC or PCGS. The 1905 silver ten cent coin is a major rarity despite the published mintage of over thirty three million.
This quantity is thought to have been the planned mintage. A few authentic 1905 coins are known to exist. Most show little or no wear.
A certified MS65 example of any date that is available under $1 00 is a definite bargain.
Twenty cent silver coins
Putting together a date set of the Hong Kong silver 20 cent coins in nearly matching condition is a numismatic challenge of the first order.
With small mintages. the coins are not often seen for sale in the USA. Problem free coins with eye-appeal in any grade are uncommon.
Type collectors will only need two coins for their set: KM#7 and KM#14. Obtaining these two coins is not too difficult but it will be relatively expensive for choice uncirculated coins.
Most 20 cent silver coin catalog prices appear out-of-date as the listed prices do not reftect current market conditions for problem-free coins in VF and above condition.
KM#7 1866-1898
Just like the Hong Kong silver 5 cent and 10 cent coins, 20 cent coins dated before 1885 are at least scarce. Two dates are very rare · 1879 and 1881.
All varieties o f 1872 are rare in uncirculated condition.
The 1879 date had the lowest mintage of any silver 20 cent coin, with just 20,000 coins struck.
Very few are believed to still exist. PCGS has certified one coin as AU 50; NGC one coin as VF.
The stated mintages of coins dated 1880H and 1881 are nearly the same, yet the 1881 coin is not remembered as ever been seen for sale.
PCGS has certified one coin as AU 50; NGC has certified no coin dated 1881.
Approxmate selling price for NGC and PCGS coins are:
Dates 1866-1884: MS63 - $2,500; AU55 · $600.
Dates 1885-1898: MS63 - $1,500; AU55 · $400.
KM#14 1902-1905
Coins dated 1905 are very rare despite a rather large stated mintage. Like the 10 cent coin of this date, the mintage was believed to have been the planned mintage, but for reasons unknown, production was cancelled but not before some coins were struck to test the viability of the dies that had already been made. Another theory holds that all or at least some of the coins were indeed minted, but the rising price of silver made it unwise financially to release the coins. The coins were thus melted but some managed somehow to survive. It should be noted that the 1905 five cent and fifty cent coins which were also 80% silver are believed to have been struck to the planned quantities. Perhaps they were minted earlier than the ten and twenty cent coins.
Coins dated 1902 and 1904 are the most frequently seen dates of the 20 cent silvers with the 1902 the easiest to find in high grades. The number of 1902 coins graded MS63 by PCGS very recently jumped to 7.
Approxmate selling price for NGC and PCGS coins are:
Dates 1902&1904: MS63 - $800; AU55 - $200.
1/2 Dollar silver coins
The 1/2 dollar silver coins of 1866 and 1867 contain 90% silver. This increase in silver content versus the 80% silver content of the smaller denominated coins resulted in Hong Kong silver coins which can be found with attractive toning and excellent eye-appeal, a trail which is so difficult to find in the 80% silver coins.
KM#8 1866-1867
In May, 1866, a branch of the Royal Mint of England was opened in Causeway Bay, Hong Kong. This new branch produced silver coins from 1866 to 1868. All coins made in 1868 were proofs. The coins featured an effigy of Queen Elizabeth and were unpopular with the Chinese people who preferred the silver coins of Spain and Mexico. This lack of demand for Hong Kong coins resulted in too few coins being made to support the operations of the mint. After incurring losses of around $440,000, the mint closed in 1868 and the machinery was sold and installed in Osaka, Japan.
Today these 112 dollar coins are very much in demand by collectors of world coins. Hong Kong type coin collectors will find much competition when they attempt to acquire one.
A total of approximately 59,000 coins were made of the 1/2 dollar design of 1866 and 1867. Of the two dates. far more coins dated 1866 still exist with the ratio being about twenty-five coins o f 1866 to one coin of 1867. The approximate value of an 1866 in AU 55 condition is $2,500; an 1867 in AU 50 condition is $3,000. A proof like NGC certified 1866 in MS62 sold for $11,500 in a 2008 USA auction.
50 cent silver coins
After the closing of the Hong Kong mint in 1866, striking of a 50 cent coin was begun in 1890. The composition of these coins was 80% silver.
KM#9.1 1890-1894
Production of these coins took place at the Royal Mint in London and would only last five years until 1894. All dates are scarce and a combined total of only four coins have
been graded MS63 or better by NGC and PCGS. Problem-free circulated coins are equally scarce and are seldom seen for sale. In 2008, an 1890 PCGS XF 45 sold on eBay for $199 and an 1894 PCGS AU 53 was sold by an internet dealer for $595.
KM#9.2 1891H-1892H
To supplement the 50 cent coins made at the Royal Mint. the R. Heaton & Sons Mint in Birmington. England coined 50 cent pieces in 1891 and 1892. An "H" minimarket appears below the bust on the obverse. Most collectors do not view KM#9.1 and KM#9.2 as different types.
Three coins have been graded MS64 by NGC and PCGS; none have been graded MS63 by these two services.
KM#15 1902.1904-1905
50 cent silver coins again appeared in 1902 and were also minted in 1904 and 1905. No new 50 cent coins would then be struck until 1951 when coins made of copper-nickel would appear in circulation. Unlike the two earlier dates. the 1905 coin is fairly easy to find especially in grades MS62 and lower. A PCGS MS64 1905 example sold for $546.25 in a January 2009 New York auction. A PCGS AU58 1904 coin sold for $346.00 in 2007.
One Dollar silver coins
As the kings of the Hong Kong silver type coins, these 90% silver dollar coins are the most sought after and valued.
KM#10 1866-1868
Minted for only three years, many have been saved, but not in sufficient numbers to meet demand. Collectors seem to value these coins based more on eye-appeal than technical grade. That may explain in part, why so relatively few are certified. This could change as better fakes are produced.
Little differentiation is made between the value of the three dates but the scarce 186716 overdate often commands a substantial premium. Most major world coin auctions feature one or more of these coins so a collector should be able to locate one that is desirable.
Summary
The silver coins of Hong Kong represent an excellent numismatic area for both new and experienced collectors. The number of coins required for a silver type set is relatively small and collecting these coins should be very appealing to those who delight in the "hunting" aspect of coin collecting as many types take patience. persistence,
and sometimes luck to find.
The silver Hong Kong coins are steadily growing in popularity. Increased collector interest is likely to rise with the growing wealth of Asia.
The surviving populations are difficult to estimate as many have been melted for their silver content. While the number of certified uncirculated coins has increased somewhat in the past year. a great many choice coins still remain uncertified. This is most certainly true of circulated coins.
Collectors should take a world-wide approach for their acquisitions. The majority of the better coins are now being sold in auctions conducted in or near Hong Kong.
The past year has seen a worrisome increase in the number of counterfeit coins being offered for sale and a significant improvement in the deceptive quality of these imitations. It is strongly recommended that purchases only be made from known reputable sellers and that more valuable coins only be purchased if they have been certified as authentic.
The information presented here is indeed limited and possibly inaccurate in places. It is hoped that other collectors will share their knowledge and experiences. By so doing, we can all gain a better understanding of these great coins.
Additional lnformation
Hong Kong Currency: http://www.lcsd.gov.hk/CE/Museum/History/en/pspecial_2.php
Dollars and Half Dollars of 1866 to 1868: http://www.winsociety.org/newsletter/news_archive/entry1.html
Article on chopmarks: http:lfvvwvv.tradedollarnut.com/Home Page/Home first 1inks/Collecting/Chopmarks.htm
Hong Kong Numismatic Literature: http:lfvvwvv.rodsell.comlhknlllibhkq.htm
February 2009.